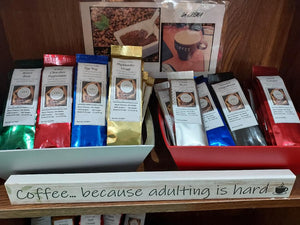 La Crema Gourmet Coffee Packets
Brush Creek Gift Nook
La Crema Small Batch Gourmet Coffee Packets
The Perfect Stocking Stuffer Gift. Or tuck in a special coffee mug to surprise someone special.
Each Packet makes 8-10 cups in a perfect pot of gourmet coffee. 
Made with love in Cincinnati, Ohio US
Coffee Flavors available:
1-CRÈME BRULEE (vanilla custard topped with brown sugar)
2-CRUMB CAKE (hazelnut, vanilla & cinnamon)
3-FROSTED GINGERBREAD (ginger cookies with frosting)
4-SALTED CARMEL (caramel with a touch of salt)
5-HIGHLANDER GROGG (butterscotch, caramel & vanilla)
6-WHITE CHOCOLATE PEPPERMINT (peppermint dipped in white chocolate)
7-EGG NOG (creamy nog with nutmeg & cinnamon)
8-BUTTER RUM (sweet buttery rum)
9-APPLE CRUMBLE (baked apple pie with hazelnuts)
1
0-PUMPKIN MUFFIN (warm pumpkin muffin w/spice notes)
11-TOASTED MAPLE NUT (a sweet blend of nuts & maple)
12-CAMPFIRE S'MORE (chocolate, marshmallow and graham crackers
*

Ingredients:
La Creme Gourmet Coffee is allergen and gluten free, all flavorings contain ZERO additional sweeteners and black coffee has virtually no calories. We use natural and artificial flavoring for our flavored coffees.
*
Available in store or order online here at our website. Text 814-977-3665 if ques.  
*Available for store pickup or shipping.
---